The International Ministries (IM) Business Visa® Card
1.5% Cash Back. Every Purchase. Every Day. 
Besides earning unlimited 1.5% cash back through CURewards, get $300 when you spend $3,000 in the first 3 months! Plus, with every purchase made using the IM Visa® Business Card, a portion is donated to support IM and its mission to recruit, train, and send IM global workers to places around the world. We've donated over $195,500 to date!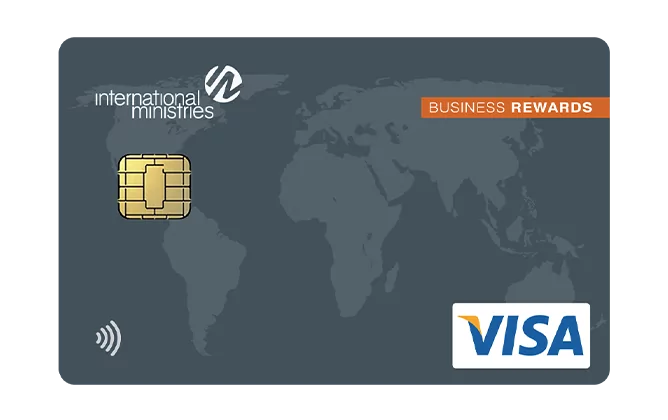 Feel good about your purchases with a card that helps transform lives and global communities.
Get 1.5% Cash Back1; You Earn 1.5 CURewards‡ Points for Every $1 Spent
Get $300 When You Spend $3,000 in the First 3 Months2
0% APR* Intro for the First 6 Months3 on Purchases
No Annual Fee or Balance Transfer Fee4
No Foreign Transaction Fees
Gives to International Ministries to Help Recruit, Train, and Send Global Missionaries!
Explore IM Visa Business Reward Services
Card Services
Whether you use an iPhone or Android, we have digital wallet apps to get you setup so you can shop using your Debit or Credit Cards with the utmost convenience and security.
Credit Card Fraud Protection
We offer services, such as purchase alerts, to give you added security when using your card and protect you from fraudulent charges.
---
Terms & Conditions
Business Visa Rewards Guide to Benefits ▸
Travel Accident Insurance ▸
View Terms and Conditions ▸
Credit Card Agreement ▸
‡ CURewards Points earned will be credited to your account each month, will accrue over five calendar years, and expire on a first-in-first-out basis annually. Points earned in calendar year one will expire as of the last day of calendar year five.
*APR=Annual Percentage Rate. Rates and terms effective 12/09/2023 and are subject to change without notice.
1) 1.5% cash back with CURewards. 1.5 CURewards points are earned for every $1 spent in net purchases (purchases minus returns/credits) on the credit card account.
2) To qualify for the $300 cash rewards bonus, a total of at least $3,000 in net purchases (purchases minus returns/credits) must post to your account within three months from the date your account is opened.
3) 0% Introductory APR on purchases for 6 months, then a variable APR of 17.99% based upon your creditworthiness.
4) Balance Transfer fees waived.